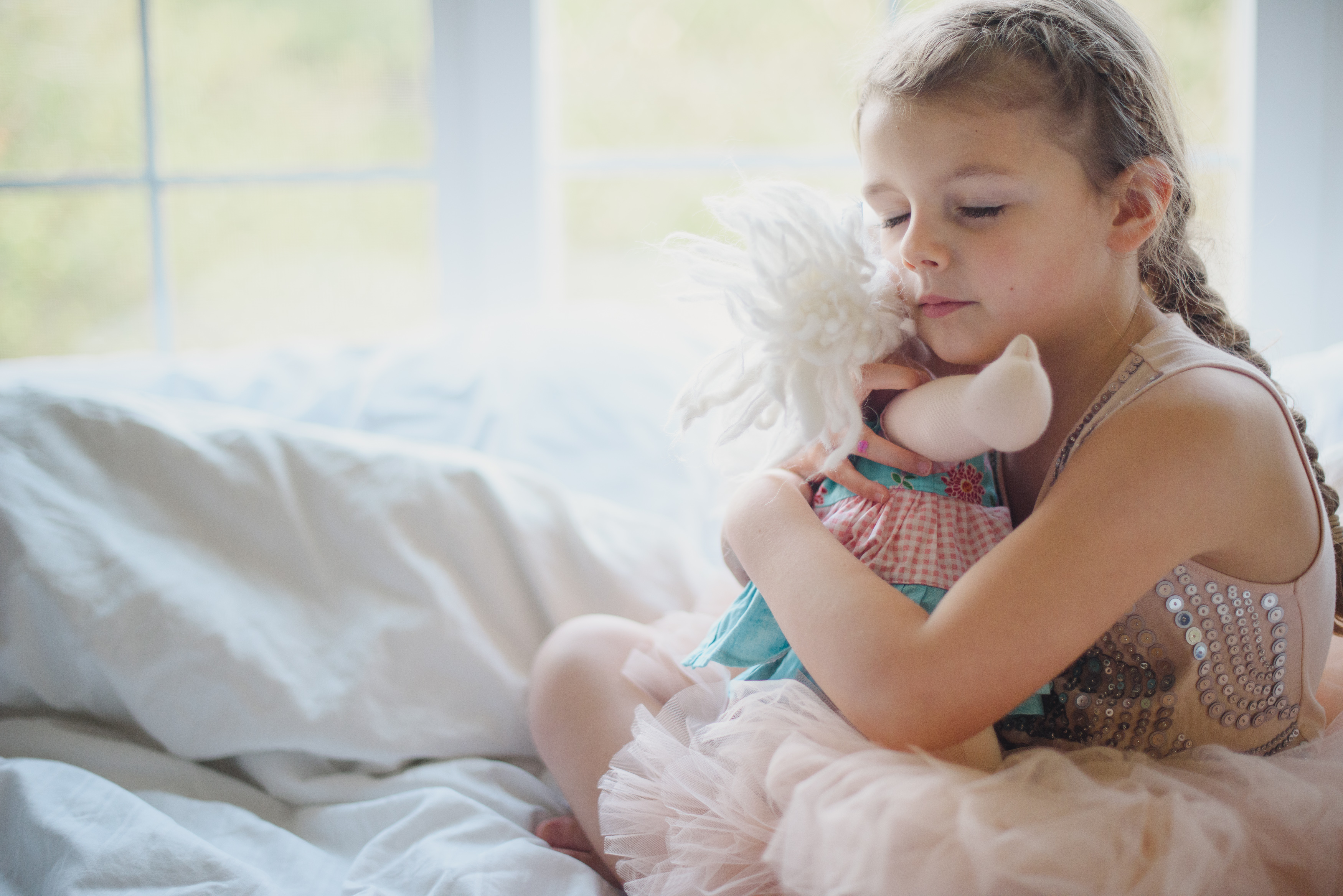 Beautiful image by Erin Wallis Photography.
I was asked recently by a friend as to why I started making the dolls and why I didn't make those cute monster dolls or stuffed animals. Surely, I could make those too – she suggested as a way to expand my product line. But, I make dolls, it's what I do. I love the idea of pouring my heart into one thing.
When I first started reading about 'Waldorf Dolls' (this is the philosophy upon which the dolls are based on) I was drawn in by thoughts of a simple expression on the doll, so that it can be used in open ended play – happy or sad or somewhere in between. And by the use of all natural materials because a child's energy 'flows' better with something natural. I loved these concepts, they just made so much sense to me. Thing was, I wasn't too keen on what was available at the time. I knew that the little girls in my life would want something a little brighter, happier and fun. So, I took my love of color, fabrics, and yarns (yum!) and created a doll. Then another. And another.
As I started making more dolls, I took them to a Waldorf school very excited about sharing what I did.  While the parents and most teachers embraced what I did and loved the more modern direction I was taking the dolls. There was one teacher who was very unkind to me – my dolls were 'too happy' and 'too colorful' and I shouldn't sell them at the school. It was brutal – it's like that lady was a vacuum that sucked up all the positivity from the day. One part of me could have shrunk away and never make dolls again or start making  them in the uber traditional way – taking her words to heart. The other part, the one that I listened too, just knew that this was what I was meant to do. You see, back then, Etsy didn't even exist – and when it did it was only myself and a very few ladies making Waldorf Dolls on there. No one had seen what I was doing. I knew that I could take the heart and concepts of this beautiful philosophy around dolls and bring it to today's little girls. And not ones that are going to the Waldorf schools, necessarily. I knew I could bring them to my friends, my family, my community – a wider base of people.
The concepts that first inspired and drew me in still hold steady in my work. They are the anchor in all that I do, my foundation. The simple faces that can convey so much and be what the child's imagination needs. The hair made with so much thought. Our hair can be styled and played with (something I know I LOVED as a child – here's our YouTube channel with different hair styling videos). I really remember as a child getting lost in textures remembering this is why I love combining different types of yarns to create it – we even go as far as hand dying most of our yarns to get all the shades we want. The simple bodies made much like a child's – not a thin, unrealistic proportion. My dolls keep kid's little – I can't get started on how sick I feel when I see what is available to young girls today (another blog post). Clothing that can be taken on and off with velcro – easy. Every single thing we do is thought out using those basic tenants of the Waldorf philosophy but always with the question 'what would the child love?'. Even while choosing fabrics I have this question near and dear to my heart.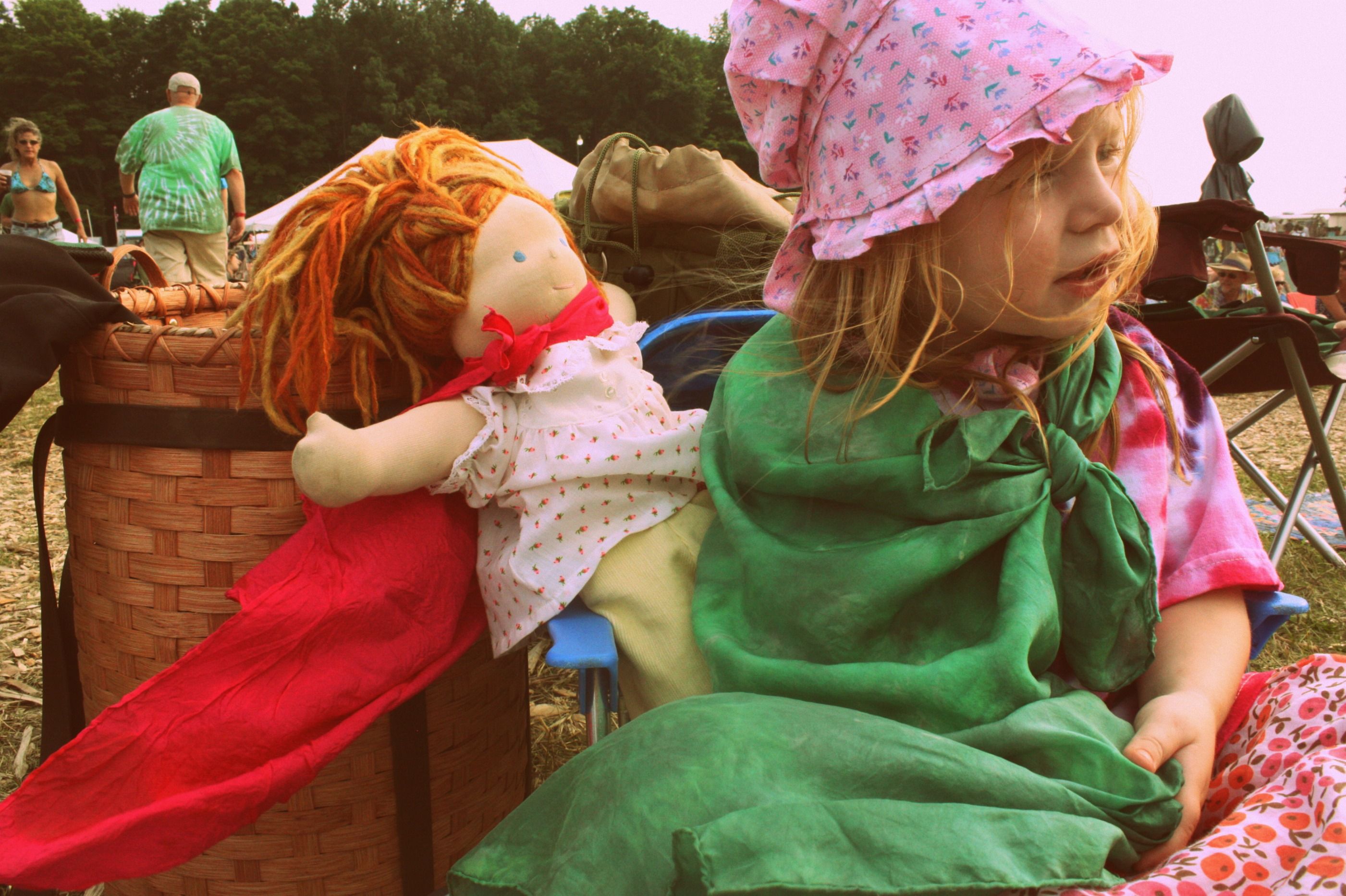 I make companions, secret keepers, a child's little ally for that short period of time of their life. My doll was SO important to me growing up – the security and comfort I took in having her around is something I feel even to this day. I know I've said this again and again, but remembering that makes me feel so incredibly honored to be making dolls for your little ones today.
Much love,
Christina