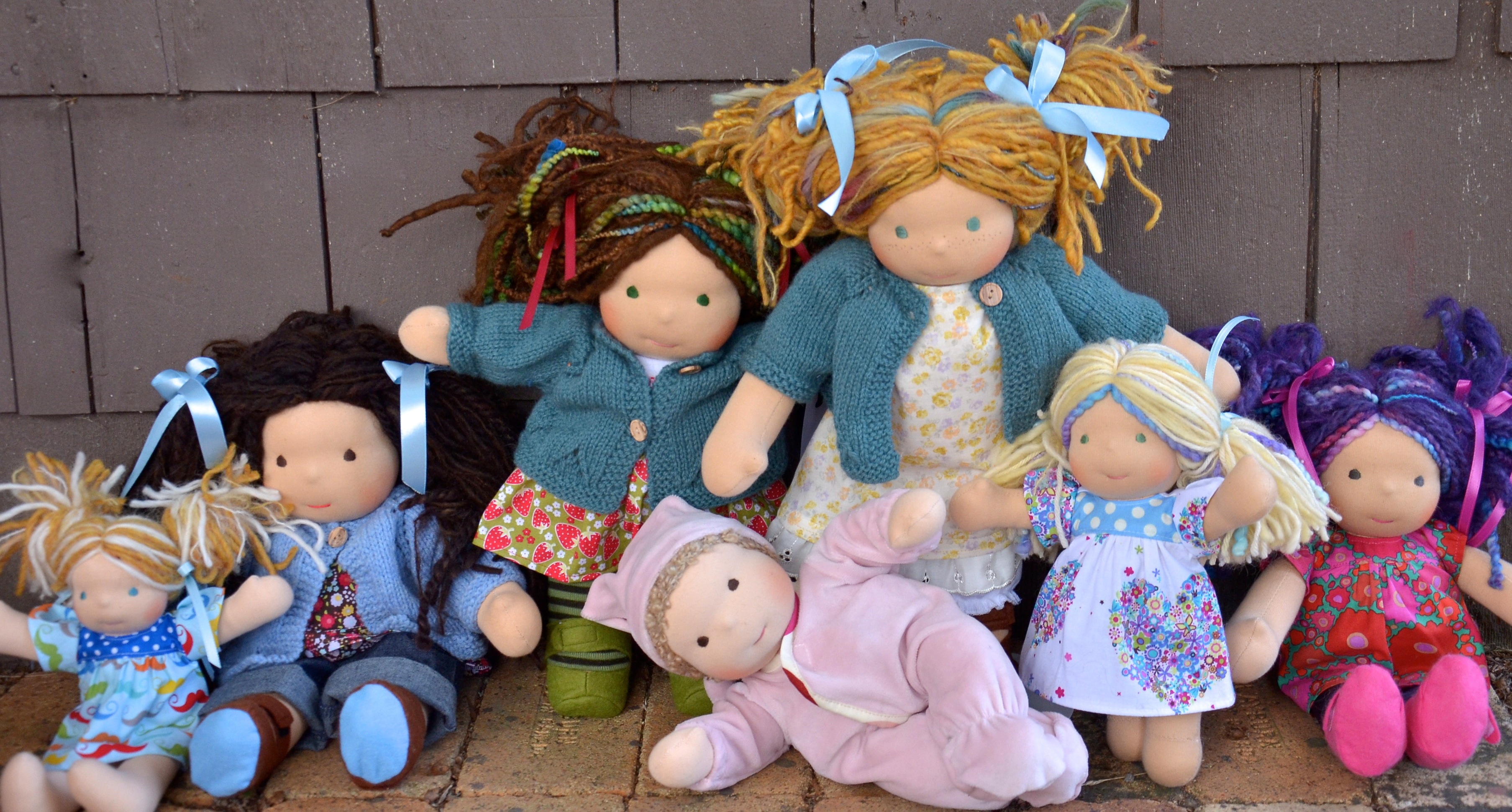 I did a Doll Type Blog post about a year or so ago but, since then, we have added in a few more doll types. We've been asked what the difference is between them all so I thought I'd explain.
Classic Doll
This was the first style of doll I made over 10 years ago! This body type is based on traditional German dollmaking patterns (which is what the Waldorf Dolls are based on). The body is sewn with cotton for it's 'skin' (which comes in all the way from the Netherlands – specially milled for dollmaking) and then the doll is stuffed with wool. It's luscious hair is made with wool, mohair and alpaca yarns and can be styled in many different ways (here's our YouTube channel for hair styling ideas) The doll is stuffed quite firmly and the limbs don't 'bend' at first, over time the arms and legs loosen up so the doll can eventually sit but she'll always be 'hug ready'!  She stands 15 inches tall and is good for 3 and up but this age range is debatable. Some wee kids LOVE the big dolls, the heft of it can be very comforting. These dolls take us about 10 – 12 hours to make. They come with underpants, a super cute outfit and shoes.  They cost $240 – $260 (depending on extra's in hair or outfit).
Little Buddy
So, this is a teenier version of the Classic Doll measuring about 10″ tall.  Made with all natural materials and all that good stuff. This is a traditional Waldorf style doll with the body shape – arms outstretched for lots of hugs. This doll seems to be good for little ones, ages 1.5 – 2 ish, or for kids that love little things! These dolls take us about 6 hours to do from start to finish. They come with a simple outfit and underpants but no shoes. They cost $130.
Sitting Friend
This doll was created for children (and their moms) that wanted a softer, more bendable doll. They measure 15″ tall (and fit the Classic Doll clothing). We developed this pattern to have movable limbs, it's perfect for tea parties.  These dolls also have very cute feet (unlike our Classic and Little Buddy dolls who have the rounded foot). This doll would be good for ages 3 and up, but, again, it's a personal preference for the child. Like the other dolls, the skin is made with that fantastic cotton 'skin' and stuffed with wool. Did you know that wool is absolutely amazing for children? It's naturally antibacterial, warms to the touch and absorbs scent so the doll smells like 'home'.  These dolls take us between 10 – 12 hours to create. They come with underpants, a super cute outfit and shoes. They cost $240 – $260 depending on the outfit and hair.
Cuddle Doll
This doll was inspired by our seamstress Nicki's childhood doll Pippi. We loved Pippi because of her size and her long-ish floppy legs. So, we made a Bamboletta version.  She's a bit like a small version of our Sitting Doll but there are some differences. She stands 13″ tall, is 'thinner' then our regular dolls and has longer legs with feet! She is made with the same materials as all the other dolls. I think ages 2 and up would be good ,but, again, totally subjective. This doll takes about 7 – 8 hours to make. She comes with an outfit (2 piece), underpants and crocheted or felt shoes. They cost $155.
Folk Dolls
Ah, the Folk Dolls. These are my personal favorite. We wanted a taller doll and I sort of made this doll to be like an homage to dolls of my past. More traditional in the clothing, hand knit sweaters and dimpled ankles, knees and elbows. The arms on these are differnent as they hang down as opposed to outstretched like the rest of the dolls. Their limbs are very moveable and they are so nice to pick up. These dolls are 18″ tall . The more I am around them the more I think they are like an adult's doll. Not that little ones can't play with them, but these seem to have something about them that makes me think this. They are made with the same goodness and care as our other dolls and take about 12 hours to make. Ages 3 and up. $295.
Piccolina Dolls
These sweet wee dolls measure 9″ tall and are a condensed version of the Cuddle Doll. Currently these dolls are only available in our store or at markets. We only make a few of them at a time so it's easier for us to sell them this way. Wool and natural materials, of course. $95
Baby Dolls
You can't help but sigh a little when you pick up one of these dolls. They are SO sweet, from the curve of their little backside to the sweet little cap of hair – love through and through. Made with all natural materials these dolls are very slightly weighted with Rose Quartz pebbles. I chose this because of the calming properties this stone is said to have. The dolls have a little cap of hair, a diaper, sleeper, hat and sweet little swaddling blanket to cuddle with. Ages 1.5 and up.
So, there they all are! I hope this has been helpful to you. One thing I do recommend for people with small children is that they tie the long hair back or braid it until the child is ready to play 'hairdresser'. It's made with natural materials and some shedding is to be expected but this will stop as the yarns age a bit and will 'felt up' a little. It's kind of like natural hair when it's freshly washed and is all fluffy, it takes a bit of time for your hair to calm down. Natural dolls have a feel of their own and will age with your child and hopefully will be passed along to their child! I feel VERY strongly about using natural materials hence the price point (as well as the labour put in between all of us sewing mama's!). If you are interested in learning more about the philosophy and use of natural materials, I wrote a blog post here about it.
Thank you so much!
Christina