We did a little tester in the summer of something new we wanted to try called the 'Frock of the Month' club, or 'FOM' as some of you may have seen on our Facebookpage and thought, 'Huh?'. We offered a one time payment subscription to purchase one complete, exclusive outfit a month (for 4 months) that would be delivered to your door hassel free and full of surprises! Because the last round was a test, we just did it over the course of 4 months and put a lot of our energies into creating outfits out of fabrics that would eventually be shared with our regular frocks and so the last go had a few costumes to create that 'exclusivity'.
This time we want to focus our energies differently, making the 'exclusivity' of the outfits being fabrics that we will be specially ordering for this project and not sharing with our other frocks…which is super exciting for us! Having learnt some lessons from the first go, Christina, Thamar and myself sat down today to thoughtfully plan this rounds 'Frock of the Month' oufits and we are all really excited!
We will be offering two different types of subscriptions, one for Little Buddy Girls and another for 15″ Girls which could also work, in most part, for our beautiful jointed dolls as well (except for maybe the shoes). Each subscription would be for the next 6 months starting the beginning of Jan 2013 (wow, is it almost 2013?! How the heck did that happen?!) and ending in June 2013. The 15″ Girl doll outfits will include 4 different pieces each month including shoes and underpants and the Little Buddy Girl outfits will include 3 pieces each month rotating the basics. I personally think the best part is that each month something fun, designed just for you, shows up on your door step!! We had really great feed back the last time we did this and as we can only handle so many subscriptions at once, we had many people asking for months to join up. The fact that we are doing this again and including Little Buddies this time is super awesome!!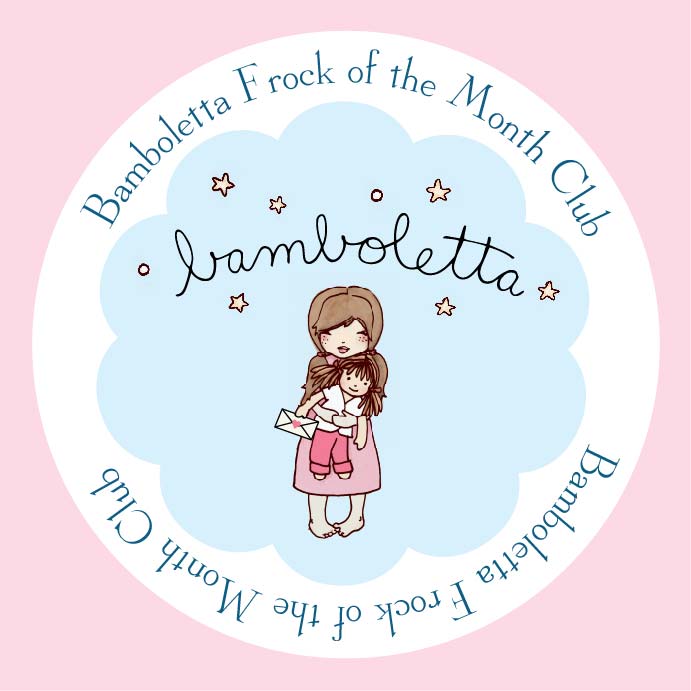 To Subscribe: We are only able to offer a certain number of spots for each type of subscription. We will offer them the same way we did last summer, through our website on Big Cartel. The 15″ Girl FOM subscription will be $250 for 6 months including shipping (add $15 if you are living internationally, outside of Canada or the US). The Little Buddy Girl subscriptions will cost $225 for 6 months including shipping (again, please add $15 if you are living internationally, outside of Canada or the US). The payment will be a one time deal and will secure your seat to begin receiving your exclusive frocks in the New Year!!! We will list the subscriptions next week on Monday, December 3rd at 12pm pst. But don't worry if you feel like you might forget, we will remind you on our Facebook page lots over the next couple of days. Christina is ordering the first batch of fabric tomorrow and I know she is just dying to get the first round of outfits out to everyone!
If you have any questions about this at all, please contact us at info@bamboletta.com and I would be happy to help you! I would also like to note, we have no problems at all if you are purchasing this as, say a Christmas gift, and you want the subscription to go to a different address other than your paypal address each month. Just send us an email, and we will change it for you 🙂 We just ask that if you choose a different address, that it is the same address each month.
xo
Brooke, Christina, Thamar and Team Bamboletta!