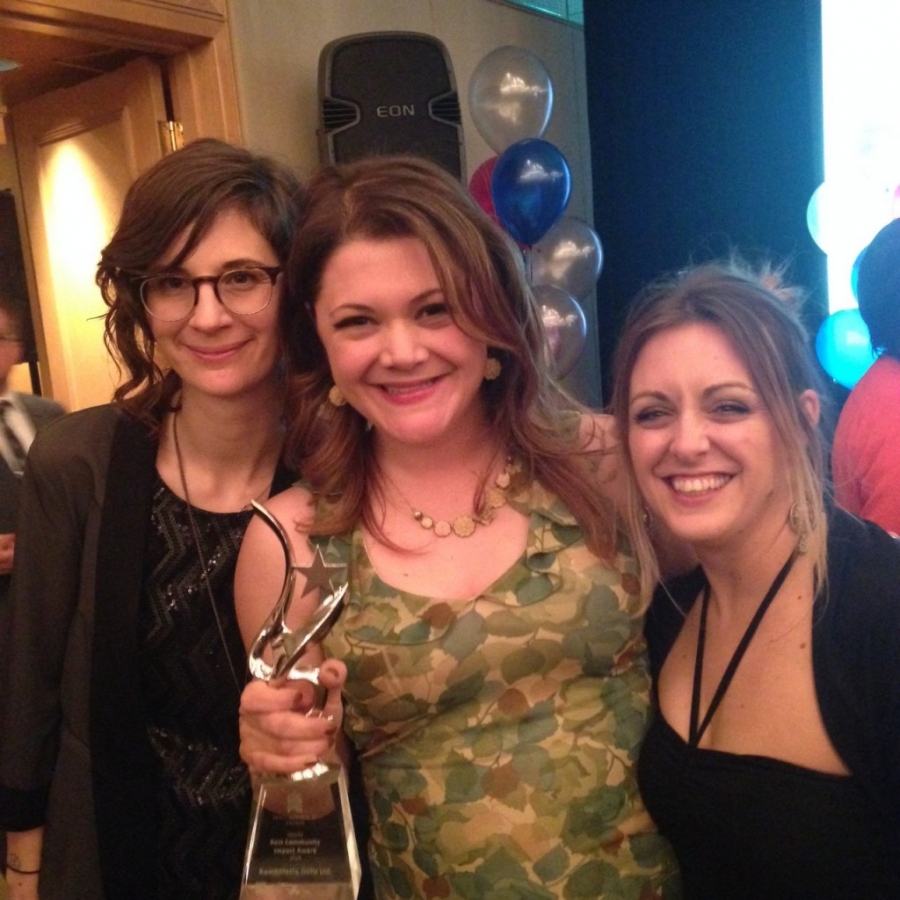 As I'm sure many of you know we recently won Small Business BC's  Best Community Impact Award. We had to complete a pretty intense application and then I had to do a 10 minute presentation in front of a panel of judges – a wee bit intimidating! Everyone was great and I had a blast doing it, so glad I went through all this. On Thursday night we had the award ceremony and gala followed by a cheese plate and tea at Chill Winston .. us Bamboletta gals really know how to rip it up!
You know what really struck me during the whole thing? It was how all these men in suits came up to me and were telling me about their wives that made dolls or their moms that made sock monkeys or their daughter that does stuff on Etsy. They just melted and I felt deeply honored to be at the receiving end of it. When I made my speech I said that by putting community at the heart and center of Bamboletta, I built a product that had love in it. It felt like I was maybe being a bit cheesy by saying that but so many really responded to it. It was tweeted and commented on many times throughout the night. It was nice to have the opportunity to say what I feel about business and how I believe it can and should be run and it obviously hit a cord.
So, thank you to all my gals at Bamboletta. I'm in Vancouver at the Market right now and haven't had a chance to tell them how much they mean to me. Everyone that works at Bamboletta is so rad – these ladies really care about what they do and infuse them with so much love. You know, I was out for dinner last night with some good friends and was telling them about how we hire. It is not based on skill – with enough time and perseverance anyone can learn how to sew a doll if they have the desire too. We've been making dolls for so long now that we have the whole thing down pretty pat and know how to teach ;). When we hire it's based on a feeling, on a certain something that the sewer has. Like I just said, these women are awesome. And you know what happens to that awesomesauce they have? It goes into the doll. Well, not literally, but something does transfer over. This sounds crazy, I know, but when something is made by hand there is a transfer from maker to doll. Once in a while Rachel will pick up a doll and just by looking it over will say 'Is 'S' having a bad week?' and sure enough 'S' had her basement flood and is stressed to the max. It's nothing really in the construction – it looks fine – but to us it's a feeling. The reason why I've been able to get to this point of making as many dolls as we do is because we've hired on from our community of ladies, and we've hired on ladies with a certain something something. And I KNOW this is one of the big factors of why so many of you can feel it in your dolls. We are pretty sensitive beings 🙂
Whoa, I totally digressed there. NONE of this would be happening without you gals out there that are buying our dolls. Thank you all so much. We are showing that there can be another way of doing business and every doll bought is making this message louder and louder. With love. LOTS of love 🙂  I want to leave our kids  businesses that are run by caring about people and the environment.
xoChristina
PS Its been a bit biz heavy lately on the blog. Cute doll stuff coming up soon 🙂