One of the most requested things that is asked of us is to create a doll that 'sits'. Our doll 'sits' but usually after quite some time and some training (as the wool softens). I used to make this kind of doll when I first made dolls almost 10 years ago. Look at this lady – when I brought her into the studio, Rachel let out an audible gasp as she saw the state of the dolls neck. (As a side note, Rachel really has a thing about necks – she likes a well sewn neck!). This gal is SO OLD – I found her in one of my bins while cleaning out my old doll making stuff from before we moved (hey, no judgement – I STILL have a few craft bins from our old house .. like 6 YEARS ago!) I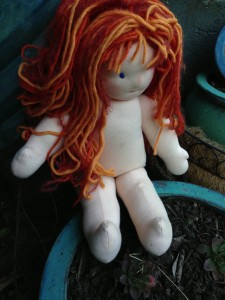 It was an interesting bit of Serendipity with these dolls. We've been talking about doing a sitting doll without joints for a LONG time – but things get so busy and Thamar didn't have the time to spend on drafting up a pattern. Then I found this doll and then I got an email from a beloved customer (hi Danielle!) about how we should make a doll that sat. THEN I was chatting with one of our seamstresses Sam and found out she is an incredible 3D pattern drafter – she just finished a puppet making project for the 'Success by Six' provincial government program for kids. So, I put all these things together and we are in the midst of making a new kind of doll.
The thing I wanted to stay true to was my original body shape – which I love so much and I think is totally Bamboletta. This is NOT replacing the original, traditional doll – this will be available alongside them. I feel strongly about staying true to the traditions and philosophy of what drew me to create the dolls in the first place. I guess this is why I'm doing a blog post about this new doll – it's a big deal for us to introduce something like this.
Any how, here's the first 'draft'. We used all sorts of skins to make her! And this is Sam.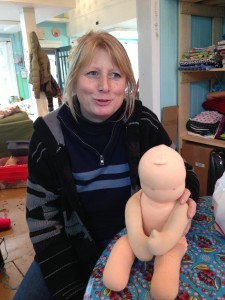 Then this happened .. we decided on the square shoulders.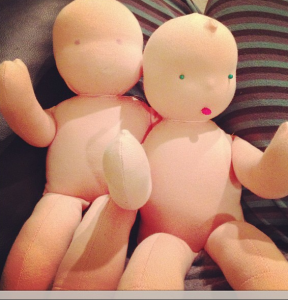 Then we modified the feet a bit ..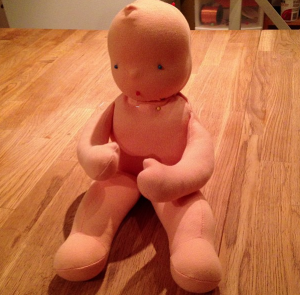 We still have many drafts to go, but I thought some of you may be interested in how this sort of thing all comes together.  This probably won't be available for quite some time but hopefully before the summer.
Talk soon!
Christina