October. That was the last blog post. Ugh! I am the worst at keeping a blog! It has been a super crazy few months. Brooke, one of my main helpers with online stuff, left to be closer to her home and little girl, we started working on kits, website redesign and , oh yeah, holiday madness. It's now finally starting to calm down – feels nice to be able to do this. Blog, say 'hello' and let you know what's going on.
So, first off. KITS. Yes, doll making kits. Our Piccolinas are uber popular when we do markets and at our studio store, thing is, we only make a few and it doesn't make sense for us to sell them online. It's a cost thing – it's an incredible cost to sell things online the way I do, individual listings, pictures, shipping. Anyhow, we've just kept them at markets so we can have a smaller doll under the $100 range. We've  done a few Piccolina Workshops over at the studio and they have been so much fun. I feel like I will burst with excitement as I watched people make their dolls – it's a feeling reminiscent of when I made my first doll. The uncertainty of how it would turn out and who would appear out of the pieces and bits of wool and cotton and yarn. So I decided to make the Piccolinas available via a kit. We got all the instructions together and have been working with the super talented, and hilarious, Karen Page at One Girl Circus so that my instructions are clear and nicely illustrated. Seriously, if I tried doing that it would be a hot mess! I can teach people to sew dolls but to do it via instructions – oye. A few more weeks and tweaks and we should have the kits available soon. Now, these kits are geared towards my friends – I have an audience in mind. Crafty, but not too crafty. The body will be made for you and partially stuffed, as will the head. It will come with a dress and underpants. You assemble the doll, sew on the eyes, put on the hair and voila – you have a doll. We will be releasing a doll clothing pattern pack soon (for the piccolina) for you crafty folk that want to make a wardrobe. I'm going to set up a Facebook Page that you can join and we'll have some tutorials and where you can share your creations. Gah! I am so excited about this!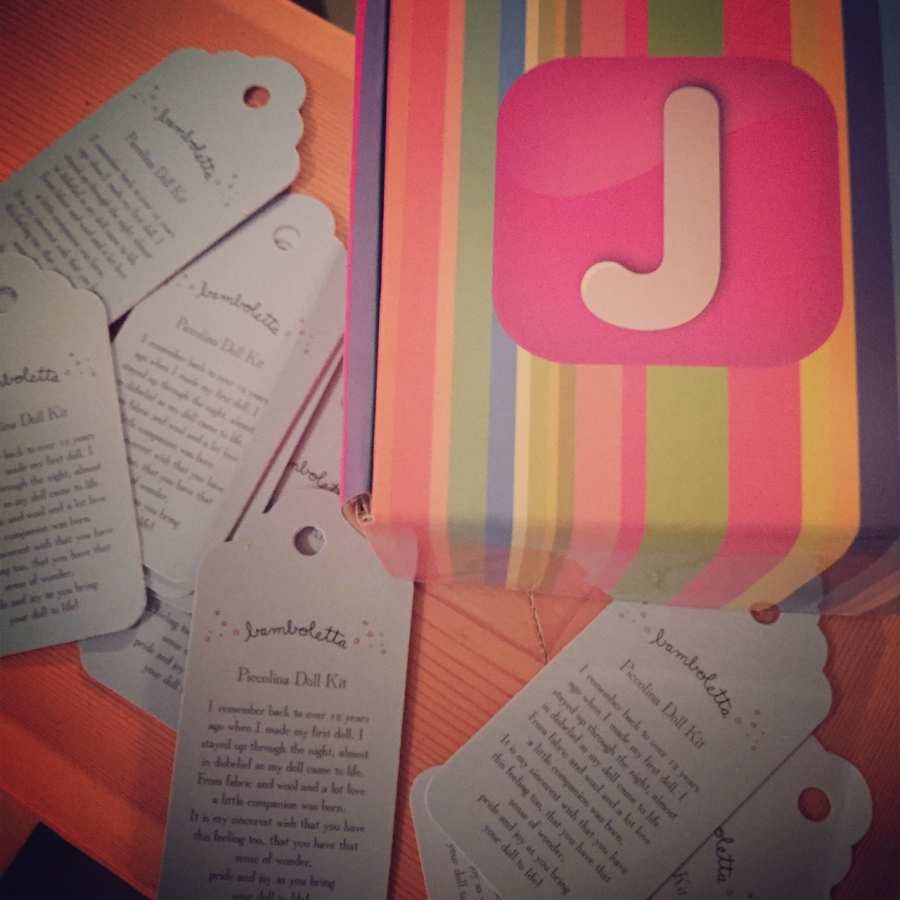 Love getting stuff like this ready! Hang tags for the kits ..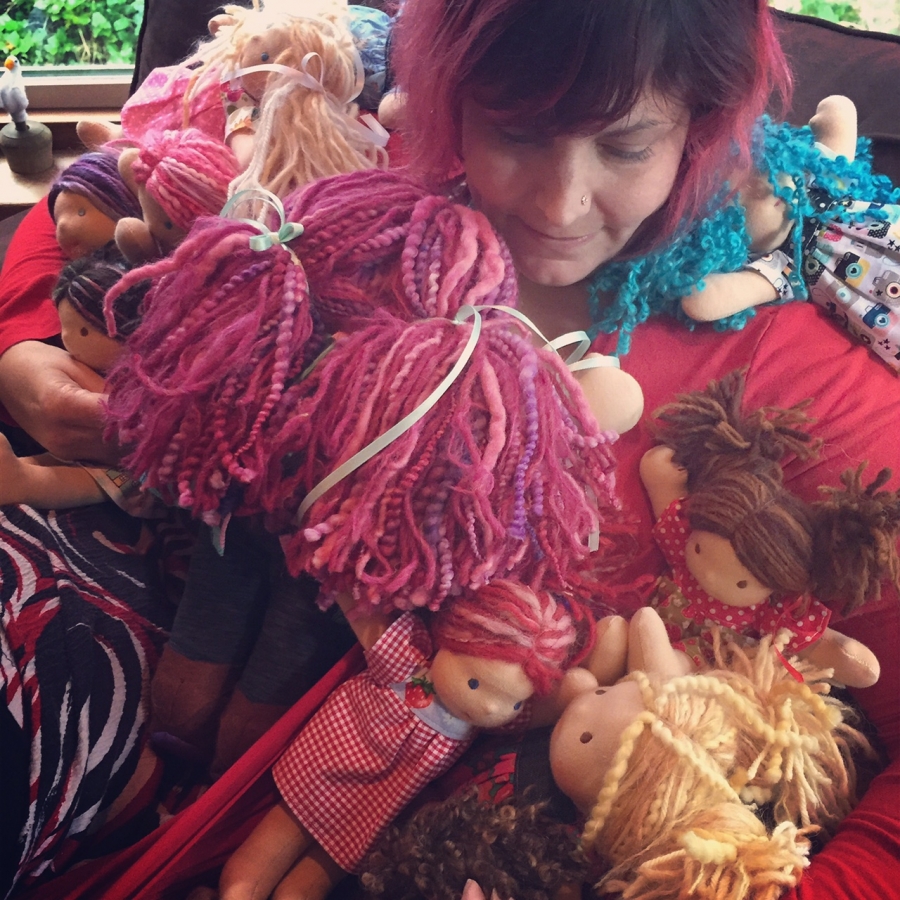 Karen having a 'Bamboletta Moment' after telling me she just wasn't really into dolls.  Ha! I see this love happen all the time. Karen and I met at The Makers Retreat last fall.
Second, Granville Island. It was a bit hit and miss last year with timing. John, who usually went for us, was working at the kids school and it was too hard for me to get over all the time. We are planning on making it over every six weeks or so this year. Brandi is going to go over to set up and then I'll join her after I get all the upload stuff and payroll done – so on Friday. We will be there this week Thursday – Sunday. Bring us macaroons (Mak-a-RON – a fancy lady told me) and we will love you forever. We have 24 Piccolina's coming with us this time .. it's going to be a cute fest!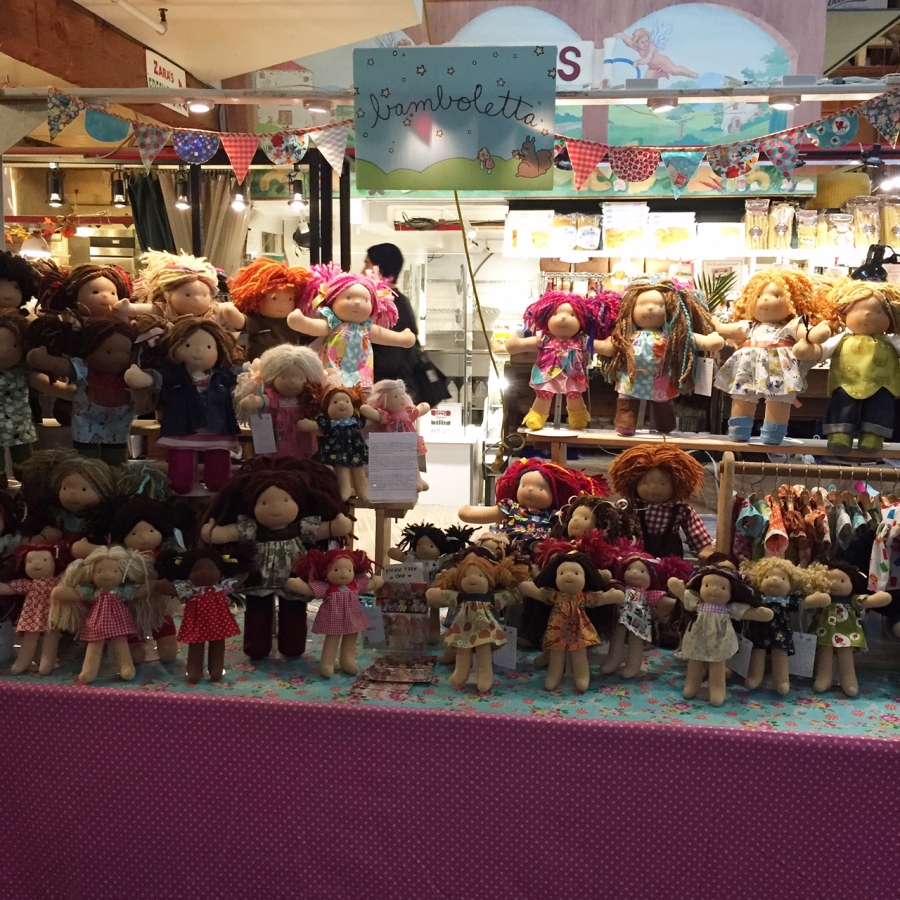 Third, THANK YOU ALL for loving the dolls and continuing to support Bamboletta. I've had this new peak of love for Bamboletta .. it never wanes, it just builds and builds, but the past few months it's just been so amazing creating the dolls. We have such a fantastic group of women working with us and the dolls are filled with so much love and care. None of this would be possible without you all – thank you so much!
Much love,
Christina