So, as many of you know we launched our new website on Tuesday evening. We really wanted something bright and fresh with lots of bits to look at and poke around in. We've been talking about this change for about 10 months and have redid the site 3 TIMES – never quite happy with it before but now I'm super happy with how it looks. Brooke worked on it with Benjamin our programmer and it's hosted on something called Shopify. Shopify is like a store set up and then you put your products in the store to sell them. It's like Etsy or Big Cartel or countless other cart systems out there. We chose Shopify because it has unlimited bandwidth (very important when you have traffic like ours) and it has a really good 'back end' where we can keep customer records, easily see things like sales tax – stuff that makes running a business like this a lot easier. It also has a tech team that we can call if we run into issues – which is way different then if you have something built for you and you are sort of on your own. Anyhow, I hope and pray that this system works! This will be my 3rd cart system now … Bamboletta is tough on sites as we have a very 'unique' buying situation. Benjamin said it's the equivalent of thousands of people all rushing into a store when it opens and all going for the same rack. There will be snafu's, I've learned that this is inevitable with what we deal with, but I'm hoping Shopify can do the job well!
So, this is how the site goes down for when you want to buy a doll … (please note that this info is 99.9% accurate, I've had a few discrepancies with what I've been told from different Shopify people – apparently no one else asks such detail oriented questions about the check out. Someone today said 'well, pardon me, but why does it matter?' HA! I think Brooke and I almost fell off our chair!)
1. Choose 'Shop all Products' on the top (I'm sure that the Shop Our Dolls link on the left on the will be okay too BUT at the time of writing this it was a tad glitchy – Shop all Products is better right now)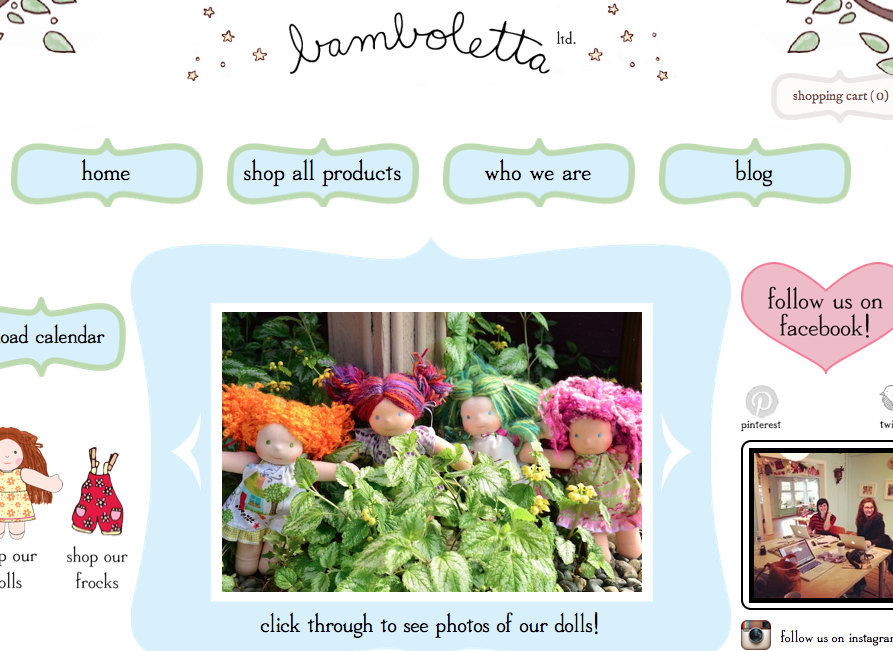 2. Select the type of Doll you want. I'm pretty sure that can go directly to these links before the sale and hit refresh until we turn everything on, but, again – this is 99.9%. We tested and retested but how a site reacts under so much traffic is unknown until it actually happens.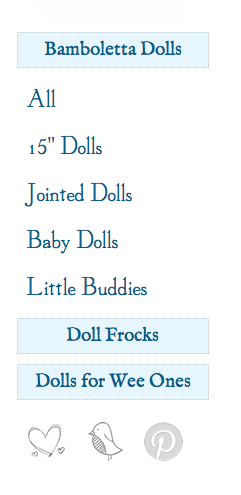 3. I clicked on and found 'Test 2' – it's EXACTLY what I've been looking for. Dream come true! I hit 'Buy Now' VERY quickly!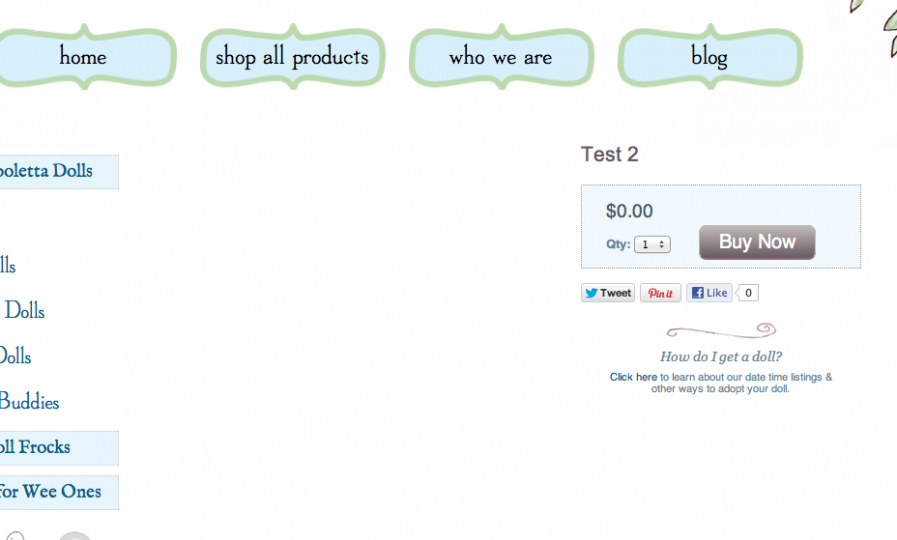 4. Okay now this is the VERY important part. Once you get here, you have the doll for 5 MINUTES – so you have 5 MINUTES to fill out your info and pay (BTW This is a time set up by Shopify and I can't change it. If you are totally worried about being held up in Paypal then you may want to proceed and pay via Credit Card). You can go ahead and click 'Pay with Paypal' which, for some reason DOES NOT SHOW UP IN ALL BROWSERS AND COMPUTERS! Why? We don't know and apparently no one has ever brought it up with Shopify before. They don't take checkout as seriously as we do! If you want to PAY VIA CREDIT CARD, or, you don't see that 'Pay with Paypal' button just fill out the info and…
** From Benjamin, our guy,  you should not click on the back button on your browser once you get to the checkout area. If you leave the checkout you lose your 5 minutes of hold time.**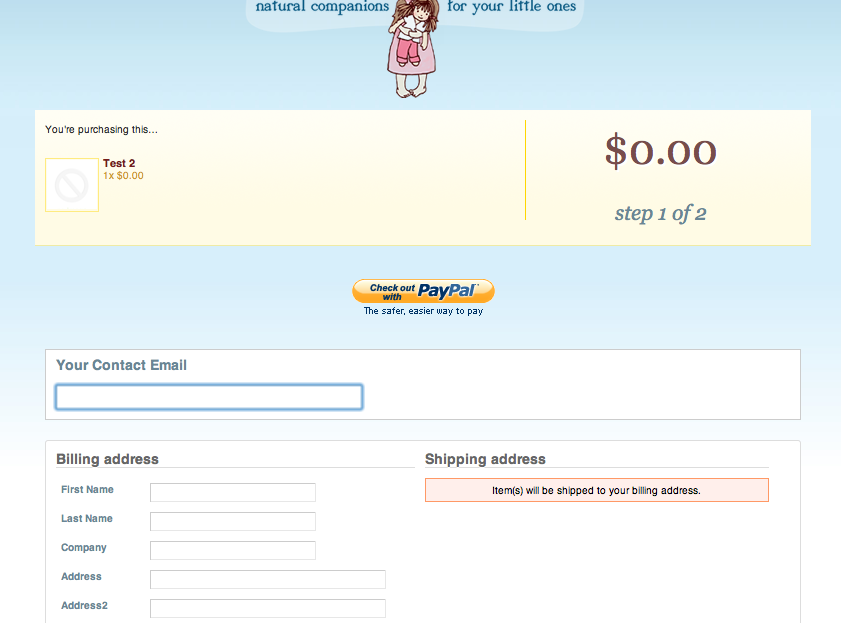 ** REVISION!** IF YOU HIT THE PAYPAL BUTTON AT THIS POINT YOU WILL BE TAKEN DIRECTLY TO PAYPAL. YOU LOG IN THEN HIT SUBMIT. YOU THEN WILL BE TAKEN BACK TO OUR CART WITH YOUR UPDATED TOTAL AND THEN YOU PUSH 'COMPLETE MY PURCHASE' **
If you didn't hit the Paypal Button just go to Step 5!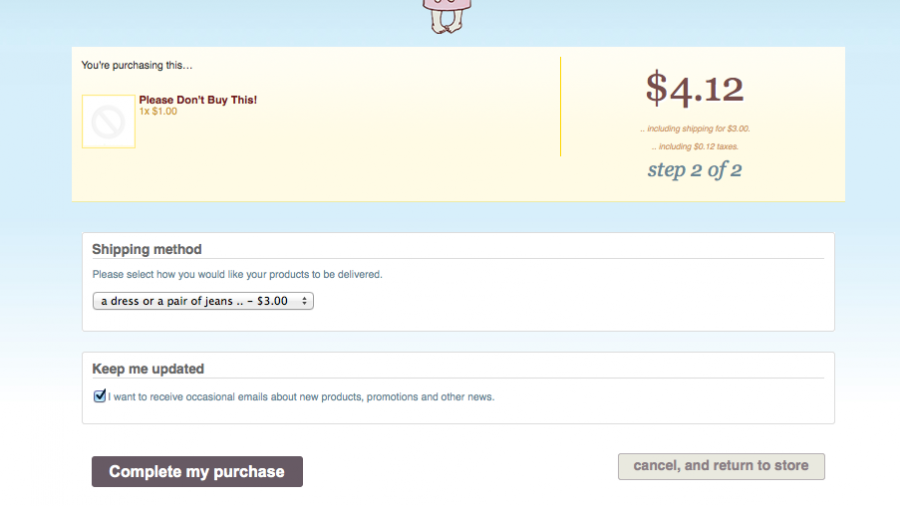 5. Hit 'Continue to Next Step'!  If you've changed your mind then please hit 'Return to Store' to release the doll. If you get here and do nothing then the doll will release in 5 minutes. This is good to know if you get to a page where it says  there are 'Inventory Issues' – it means it someone is checking out. If they don't check out within the 5 minutes then the doll goes back into the shop. (SEE NUMBER 8 for more info on this – it what happens if someone is checking out with the doll)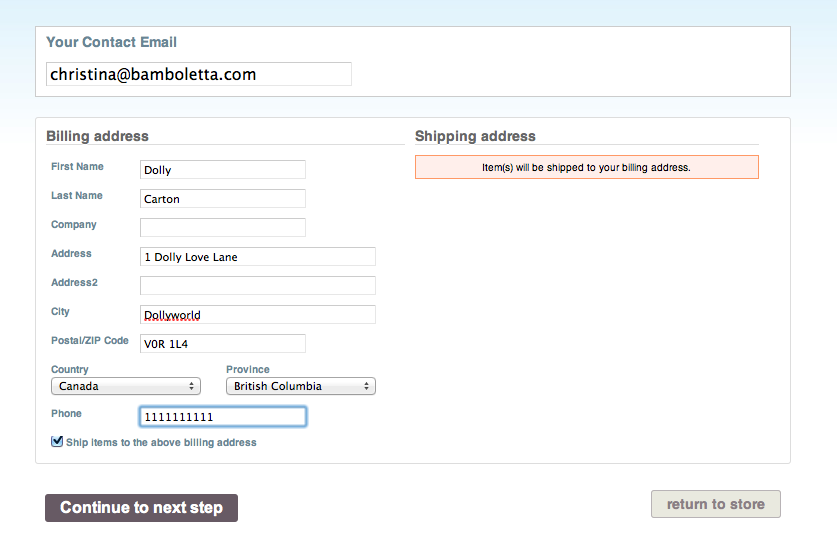 6. Here's where you fill in your Credit Card info and Complete your purchase. It doesn't matter if you choose Paypal on this page or the above page. If you use Paypal, I'd probably hit the button on the previous page so I didn't have to fill all that info out. That is IF you see that button in your browser. But really it doesn't matter – I just hate filling in more info than I have too!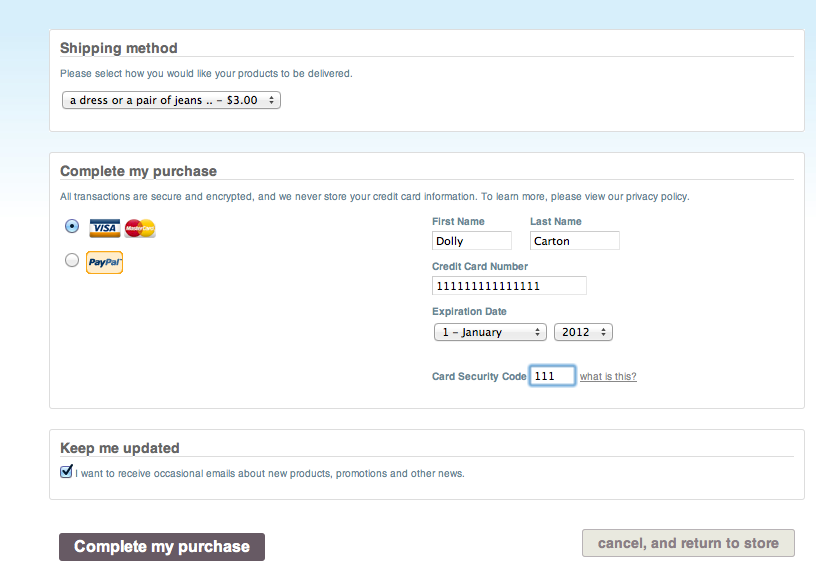 7. And VOILA – doll is yours! Shopify assures me that there are NO oversells but again, this is a very unique traffic/supply/demand situation we are in over here at Bamboletta. I'll guess we will see what happens tomorrow with all those Little Buddies for sale but fingers crossed it all goes smoothly. Don't know if I'll be able to sleep tonight!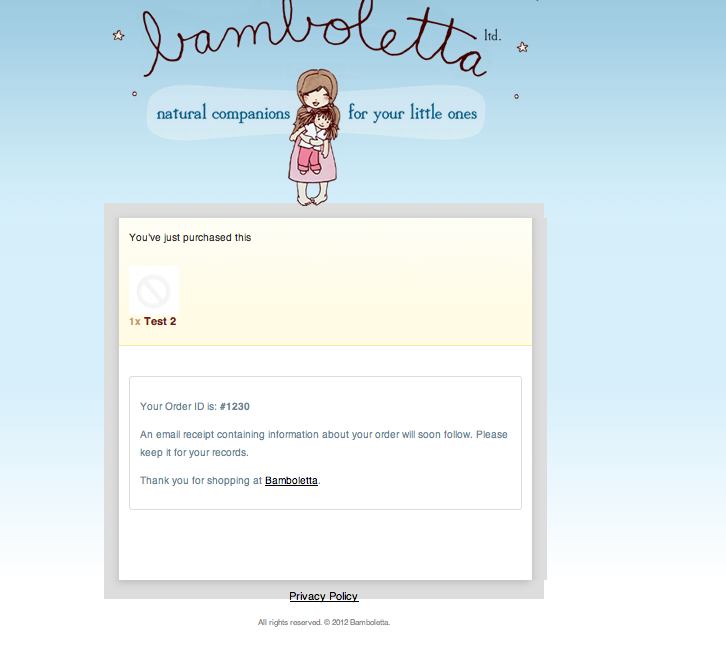 8. So, lets say you click 'Buy Now' on the doll you selected and someone is in that 5 minute checkout window. This is the screen you get. WHATEVER YOU DO DON'T HIT 'APPLY THESE CHANGES'! Nothing bad will really happen to you but you will be put into a weird grey world (see 9. Pic) that does not link back to the store – even though it says it does.  So on this page please just hit 'return to store' or even the back button on your browser. We had a timer  built to tell you how long a doll will be still be in the cart but it's currently disabled until we get it all smoothed out. Until then you can go back and choose another doll or keep trying to buy it until it may (or may not) release back into the shop. Once a doll is sold it will show as Sold Out.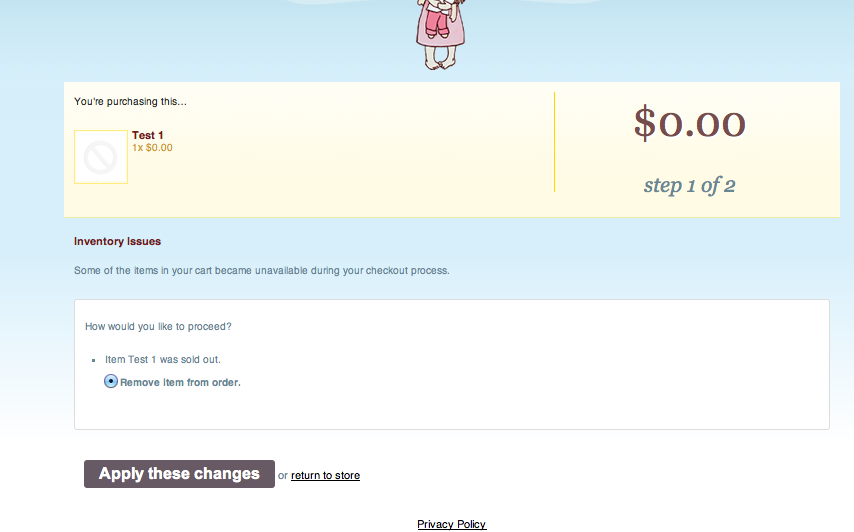 9. This is what happens if you hit 'Apply these Changes' – you get this grey screen. If you press 'Go back to previous page' NOTHING happens and you keep on this grey page. Again, we called Shopify on this several times and they were a little shocked at our dismay over this. From what we've heard they are making a fix on this so you don't keep looping in here. If you do end up here you have to go back to www.bamboletta.com. Testing on my browser hitting the back button keeps me on this page too 🙁 This issue single handedly kept me from opening up my Shopify store sooner but I've realized now it's something with every cart.

Thanks so much everyone for your amazing patience and support during this. I know lots of you loved Etsy but with the fees charged it's just not feasible for us to continue on there. We also really need a better admin side to things for business stuff.  I wish it were easier to get a doll and there weren't web difficulties – it's just so many people at one time! Thanks too for all the great feedback!
BTW – We still have dream dolls in the works. We made the form on our old cart and now we have to reconfigure it somehow here on Shopify – it's a bit of a logistical headache. We just need to tackle our website first and then we move into Dream Dolls. I'm really looking forward to them and Rachel is excited to be the Dream Doll liaison!
xo
Christina