Happy Friday friends!!
I am starting a new weekly blog called 'Studio Style' about, well, you guessed it, our ladies stylin' outfits in the studio! There's been lots of comments in the past about how we ladies dress up and I know personally I'm pretty excited to be out of the house and at work and so every day is like an occasion…plus I work with the best audience of friends ever, so even in my sickest state, someone always has something nice to say…
So, here it goes, this weeks first style post: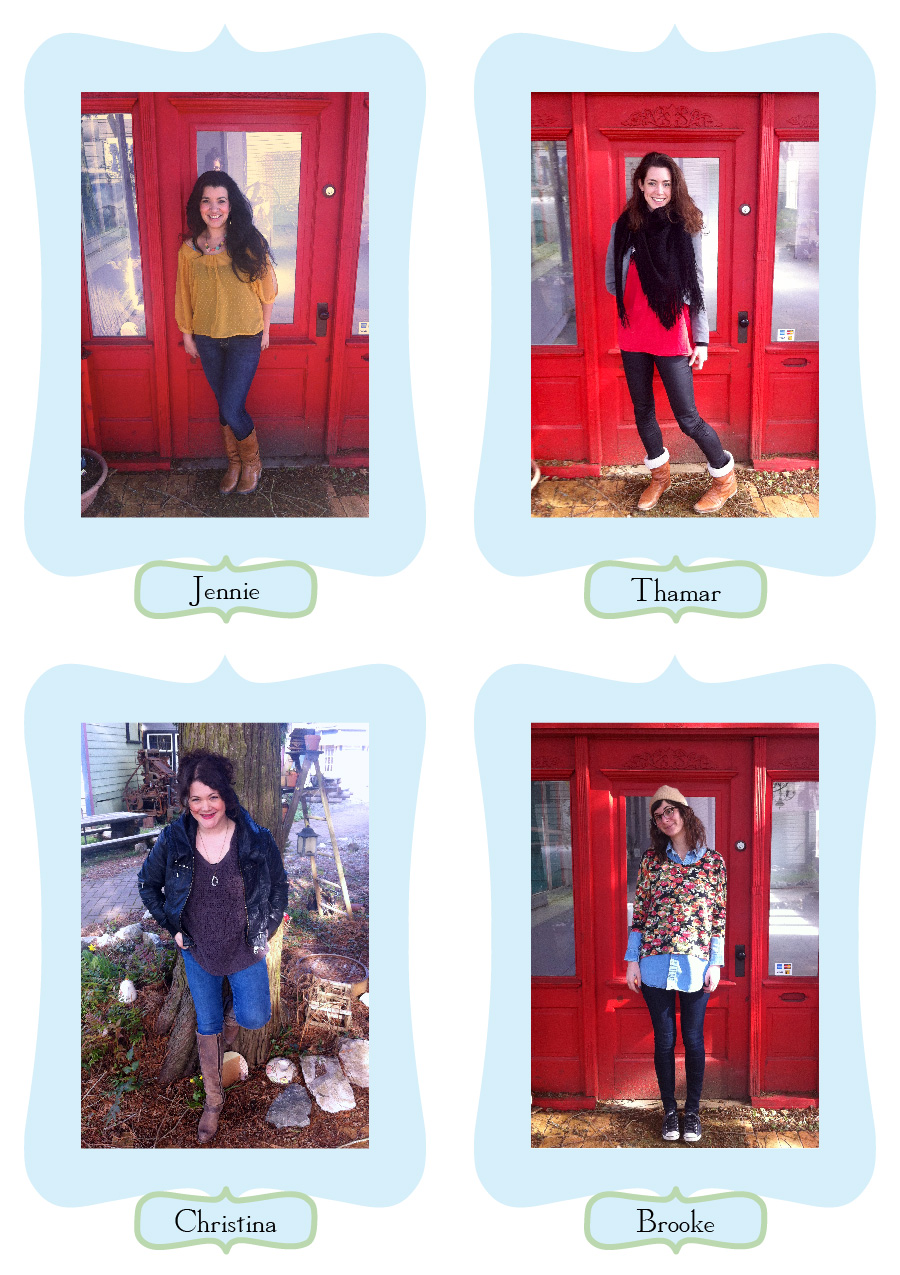 I think it would probably be nice to include where some of our bits and pieces are from, but I didn't think about it until now, lol, but I can try here from memory…
Jennie: Necklace from Nest Pretty Things, Boots (Vintage (I believe))
Thamar: Scarf (Vintage), Jacket (H&M), Blouse(Vintage), Pants (H&M), Boots (Bovendert)
Christina: Necklace ( Scarlett Fire Jewels), Jacket (Danier Leather), Sweater (Free People), Jeans (JBrand), Boots (Fluevog)
Brooke: Hat (Vintage), Glasses (BonLook), Sweater (Plenty), Button-up Shirt (Vintage Ralph Lauren), Jeans (H&M), Shoes (Converse)
Btw, Christina (the photographer) is like the worst to shoot a photo of, LOL! You might notice she refused to stand infront of my red backdrop and I had to take a thousand photos of her, and she's the custest, so why? Why Christina?!
So, let me know what you ladies think of this new blog idea, I would love your input!
Thank you and happy Friday!!!!!!
Brooke
xo