Happy Friday everyone! I hope you all had an amazing week this week! We've had a busy week as always at Whippletree. There's been many a round table discussion about our soon-to-be launched new 'Sitting Dolls'!! Lots of perfecting and testing and stuffing and unstuffing. The end result dolls are looking absolutely gorgeous and are just so huggable and sweet, we are all so in love and can't WAIT to introduce them to our weekly uploads!
In keeping up with our new weekly edition of 'Studio Style' where I take shots of some of the ladies around the studio during the week who are looking particularly cute (but believe me, it could be any one of us at any time, so this really isn't a tough job, lol). So here are this weeks cuties!…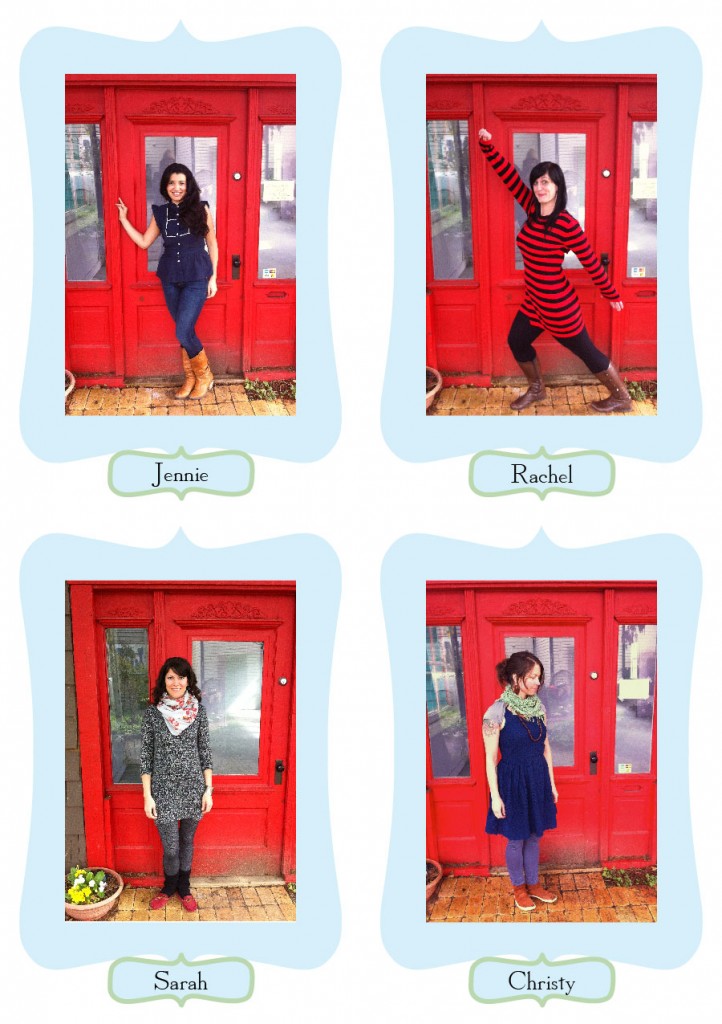 Jennie: Blouse ('Mine'), Boots (Vintage)
Rachel: Dress (Folter), Boot (Born)
Sarah: Scarf (H&M), Leggings & Legwarmers (Ardene), Sweater Dress (Joe), Shoes (Winners), Earrings (London Drugs)
Christy: Necklace (Tibetan Prayer Beads), Dress (Old Navy), Bolero (Vintage), Tights (Kische), Moccasins (70's Vintage from Manitoba)
I hope you all have a wonderful weekend and I'm hoping sunny skies are in everyones forecast…I don't know about you all, but I would LOVE some sun on my face!
xo
Brooke