Hi Friends!
We have another VERY exciting giveaway this week for one of our beautiful rainbow boucle Bamboletta jointed dolls!!! Meet Analise, she is super excited to make her journey to the winners forever home!!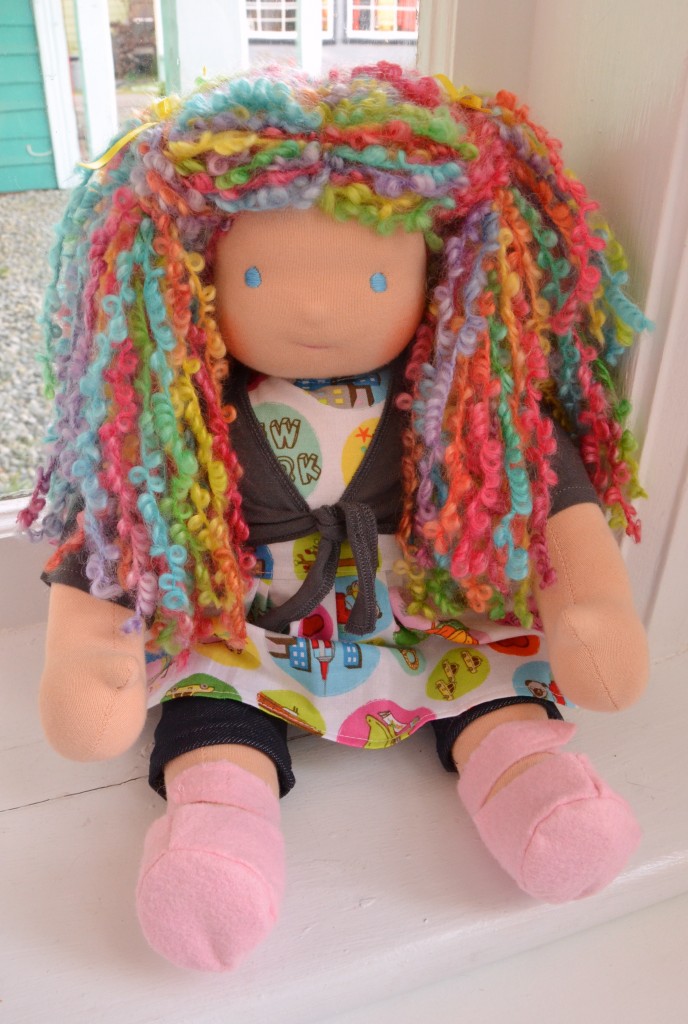 A little bit about Analise: She has sunkissed skin, long hair made with mohair boucle in rainbow colours and bright blue eyes. She is wearing the pictured outfit, underpants and wool felt shoes.
The limbs of our jointed dolls are attached using teddy bear joints, and are reinforced inside the body to withstand years of childhood play. These dolls measure approximately 15″ in height. They fit our clothing created for our 15″ dolls. They are hand made with wool, cotton, and lots of love. Skin tones and color of clothing may vary slightly because of circumstances beyond our control due to lighting and various computer monitor settings. Made by team Bamboletta in Canada.
You have three chances to enter! You must post a comment on our blog below as your first entry, then you have a chance for two more if you 'Like' our Facebook page and also if you Tweet about it!!
Not only does the winner get this beautiful doll, but we are also offering free shipping on her…worldwide!!! Please review our terms and conditions. This doll is intended for personal use only…please, please don't resell her  🙂
The contest ends Tuesday at 12:01am EST. If you don't see your comment right away that's because we need to moderate them. Thank you everyone and good luck!
xo
Team Bamboletta