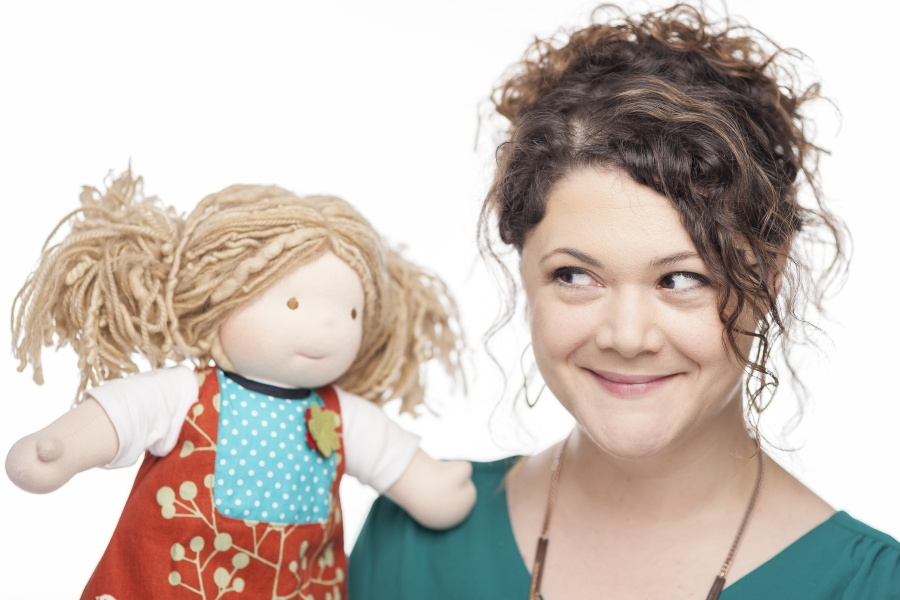 I had all these pics done after our award last year – I think this one was for the Small Business BC website. This is my mom's doll.
I put something up on Facebook last week that as of July 1st we will be increasing our prices. Although many people saw this, I wanted to make sure that this message reaches as many people as possible – hence the blog post.
So,  a price increase will happen on July 1st. With rising costs of wool, yarns (I'm finding better and better ones to use – have you seen the hair lately!) and fabrics – I'm barely making it.  Not to mention the 10 or so hours of mama love that goes into each doll. I made a mistake back in February when I changed my pricing from US to CAD without adjusting the price. I didn't realize how much I depended on that exchange to ,well, give me an income and pay for things that come up like insurance (13k PER YEAR! – isn't that crazy?) and the government (oh the sweet CRA always wants a big huge piece of the pie). Business is not my forte (and thankfully so because if I was I'd never be in business – this whole gig is a big, huge act of faith and devotion) and I am an optimistic – thinking once I didn't have the studio or employee costs it would work out.  I'm not swimming in pools of gold over here, haha, we live super modestly and it's so that I can run the business with the ethics and values that I hold near and dear. I've discovered what is 'enough' in life and my heart is full – but I have to be able to pay my suppliers and not have the CRA call me because I'm late for a payment. Again.
I  just looked on my blog and the last time I raised my prices was on March 1, 2012. Three years ago and I raised them to $250USD as the price for dolls with fairy bits (it's now $240 CAD – $194 USD). I dislike doing this sort of thing and should have raised my prices since then but I totally get sick around this sort of thing. But now my hands are tied – I have to. Like there won't a Bamboletta if I keep prices at this rate.
As of July 1st, 2015 my prices will increase by 15%. They will still be in CAD funds and therefore be lower then what they were back in January. The doll kits will stay the same as will the clothing – but the dolls, they will go up.
I have so much gratitude in my heart for all of you who love our dolls – thank you so much for all your support over the years. Like I mentioned earlier, I posted this on Facebook and had my heart blown open by the comments and support you all showed. Bamboletta ,to me, represents a world of business I want to happen, the one that puts so much love into it's product and cares deeply about how it's made and by who. This is an intrinsic quality that is hard to put a dollar value on but is definitely passed onto the receiver of the product. Thank you for valuing what we do.
Much love,
Christina