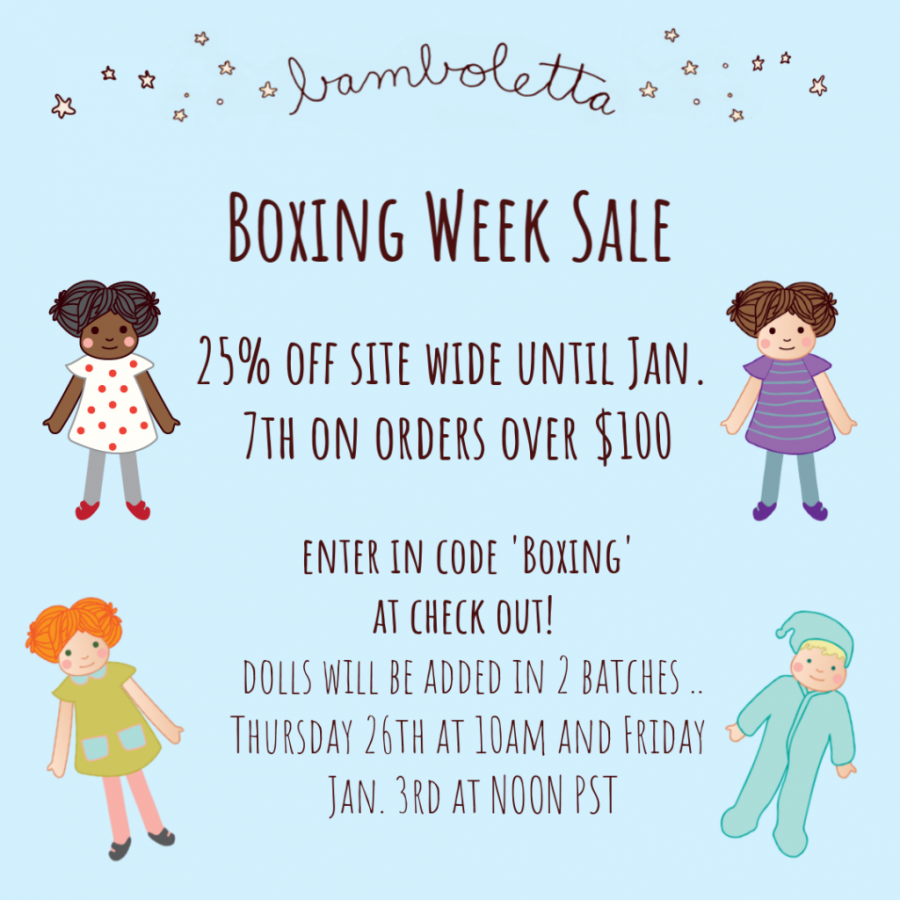 Hello, friends

It's been such a long time since I've blogged. I don't even know if anyone looks on here anymore but I thought this would be a good place to announce our HUGE BOXING WEEK SALE!

All year, I've been tucking dolls away just for this occasion. The way our Bamboletta flow works is that every week the dolls come in and I sew their faces on, we get them ready for upload and then ship them out. There is little room for me to get any time off because, well faces, and I still have to pay all the sewing mamas .. it's a tight ship 😉 Last year I discovered that if I put dolls away through the year, then I can put those gals up for a sale and then take some time off to rest my hands and take some time off. AND everyone has the super rare opportunity to get a Bamboletta at an incredible price .. it's a win win happy situation all around 🙂
So, on Boxing Day at 10am PST I will be putting up a big batch of dolls that will be discounted at 25% off! Then another batch on Friday Jan 2nd at NOON PST. The discount will work until Tuesday Jan 7th at midnight and then regular doll uploads will resume on Wed. Jan 8th with clothing at 3pm and dolls at 4pm and then Dolls on Friday Jan. 10th at noon PST.
Thank you SO MUCH everyone! I hope everyone had an amazing holiday season. You have all been so amazing and we appreciate you so much. Thank you, thank you, thank you!
Christina
PS … if you are reading this on Christmas Day our coupon works right now for existing dolls on the site!