When I first started stuffing doll arms & legs with chopsticks, I noticed that I was getting really sore on the palms of my hands from the bottom of the chopstick digging into my skin as I pushed the wool tightly into the body parts. I wondered how I could remedy this discomfort.
One night when I got home I saw my son's leather baseball glove sitting there waiting for me to pick it up. (Fortunately he decided that baseball wasn't his thing anymore) I brought the glove into the shop and put it on my hand with a tuft of wool between my hand and the glove. The glove was so tight so I took it off and just placed it in between my hand and the chopstick each time. This gave me better grip on the chopstick and the wool helped cushion my hand from the hard wooden end. It really works great for me.
One day I couldn't find my glove and when I went out for my walk at lunch, I found a new adult sized leather glove laying amongst the array of tea pots sitting in the trees near our studio. It looked like the glove of my stuffing dreams! I checked around with the local folk near the studio and heard that the glove was there for a long time already.  (If you lost a glove near our studio, come on in and you can have it back!)  Even though this glove fits my hand, I still just hold it in between my hand and the chopstick with the cushioning wool inside it. Funny enough the baseball glove mysteriously made it back to my home the same day I found the other glove.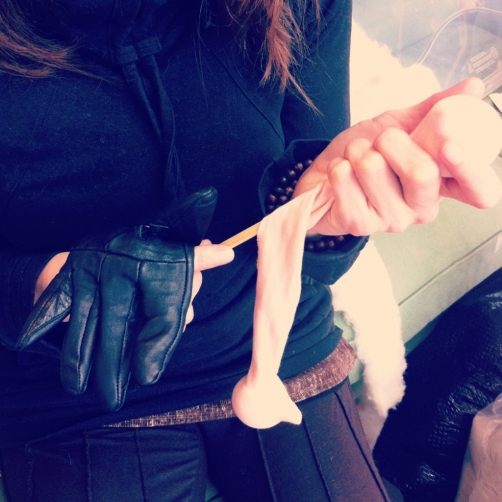 The glove became another inspiration for the many jokes that go on at Bamboletta. Often the glove can be found tightly holding a chopstick without any hand in sight.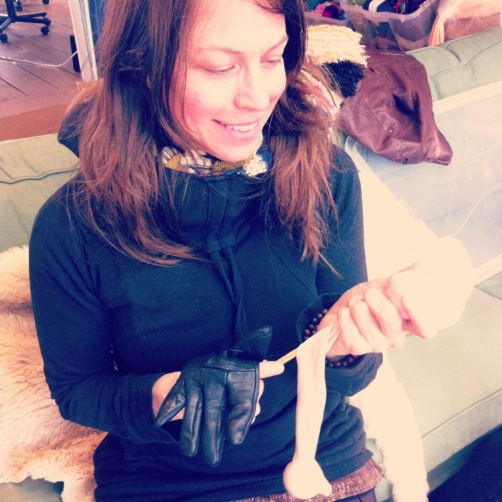 Christy